new
dynamics
Publications is a voice for women and men of diverse races, cultures, and callings who experience life as a creative journey.
TEACHING WALL BANNERS
As a part of our diversity series on gender, sexual orientation, and race and culture, we offer three wall banners to enhance group discussion.
These banners are large, fold-out versions of the four-color graphic in the back of Journeys of Race, Color & Culture, A Male/Female Continuum and Sexual Orientation and Identity.
Each banner is printed on plastic - it won't tear and you can just wipe it off!
Journeys of Race, Color & Culture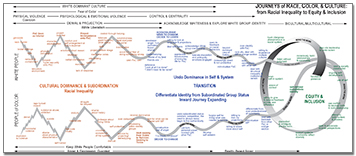 6 feet x 3 feet (182cm x 91cm)
Price: $400 + S&H
←Sample fragment
Click to order banners
A Male/Female Continuum: Paths to Colleagueship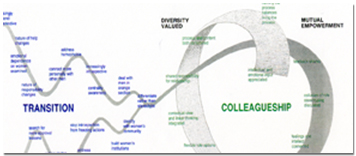 8 feet x 3 feet (243cm x 91cm)
Price: $160 + S&H
←Sample fragment
Click to order banners
Sexual Orientation and Identity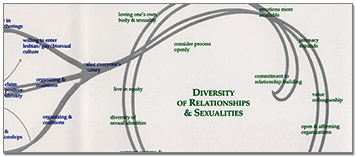 8 feet x 3 feet (243cm x 91cm)
Price: $160 + S&H
←Sample fragment
Click to order banners