newdynamics
Publications is a voice for women and men of diverse races, cultures, and callings who experience life as a creative journey.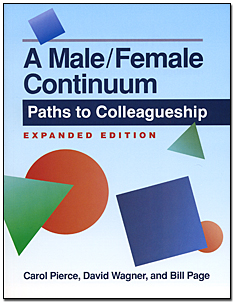 75 pp. 2nd edition expanded, ©1995, 2004
ISBN 0-929767-02-0
(Dimensions:7" x 9")
Publishers: new
dynamics
Publications
List US$18.00
Bulk Prices available
Click to order book
Gender Equity
Your job depends on it.
Your friendships depend on it.
Your intimate relationships depend on it.
Your journey through life depends on it.
In this ground-breaking book, renowned specialists in power equity and gender imbalances guide you on heterosexual journeys away from dominance and subordination to greater equity and empowerment.
"
The search for gender equity is but part of the larger struggle for recognition, acceptance, & respect for humankind in all its multiplicity.
"
p. 47
This book encourages positive change and growth for anyone who wishes to embark on such a gender journey with someone personally or with friends and colleagues.
This book contains a Tri-Color Fold-out Graphic Describing the Journeys for Women and Men Moving to Colleagueship.
Click here to order the room-sized Teaching Wall Banner.
Table of Contents
Chapter 1 - Introduction to the Journeys
Chapter 2 - Men and Dominance
Chapter 3 - Women and Subordinance
Chapter 4 - Women in Transition
Chapter 5 - Men in Transition
Chapter 6 - Reflections on the Continuum So Far
Chapter 7 - Colleagueship
Chapter 8 - Looking Ahead on our Journeys
Authors
Carol Pierce, David Wagner, and Bill Page are innovators in addressing gender issues in organizations. The foundation of their approach is the claiming of creative power through the developmental journeys of women and men and how these journeys intermesh. They work with people who want to make meaningful and lasting change in their organizations.
Carol Pierce
, a member of the NTL Institute, has been an organizational development consultant for over 40 years. She is known for her writing in the field of diversity work. She is a developer of widely used educational models and a creator of programs in the areas of gender, race, culture, and sexual orientation. She has worked with a variety of clients in business, industry, human service, health, and educational and religious institutions.
David Wagner
was an organizational development consultant and diversity trainer with a background in management. He helped people more intentionally manage change. He had extensive experience with issues of gender, race, culture, and sexual orientation. He expedited the design and attainment of structures appropriate to accomplishing vision, purpose, and goals. (deceased 2007)
Bill Page
has a unique base of experience over 45 years which includes senior level management, extensive consulting in large organizations, and his work as an artist. Whether he is consulting on large organizational performance, valuing diversity, or the creative process, Bill persists in opening new ground.
Reader Comments about A Male/Female Continuum:
"
Working towards colleagueship is difficult to visualize on your own... it is brought to life here. It has made a difference in how I feel about myself, how I relate with my spouse and children, and in my relationships at work.
"
Joe Gaetan, Monsanto Chemical Group, Canada
"
One of the most brilliant pieces I've read in a long time.
"
Bill Spenla, Dupont
"
An exciting and effective tool for helping men and women to understand how their relationships are changing -- and need to change -- today.
"
Celia Allison Hahn, The Alban Institute
"
The Male/Female Continuum is far and away one of the best teaching tools that I have seen in terms of its ability to help men and women appreciate the gender dynamics that operate between them. As an African-American male, although this model reflects white norms, l find that many people of color can pick this model up and identify themselves in particular places on the continuum as consistent with their experiences and their relationships. I use the continuum internationally as a basis for work in many cultures.
"
Ralph E. de Chabert, SVP, Chief Diversity Officer, Brown-Forman Corporation
Top of Page ↑