new
dynamics
Publications is a voice for women and men of diverse races, cultures, and callings who experience life as a creative journey.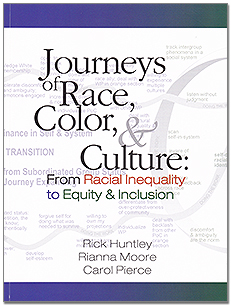 155 pp. ©2017
ISBN 978-0-929767-07-9
Library of Congress Control Number 2017941850
Publishers: new
dynamics
Publications & NTL Institute of Applied Sciences
List US $35.00
Bulk Prices available
This book supports those who seek to
understand the cultural status quo in terms of societal racial power dynamics,
develop greater awareness and understanding of their own racial identity,
undo racism in themselves and in their spheres of influence,
participate in authentic dialogue across race difference.
The authors are educators, coaches, and organization development practitioners who specialize in diversity-inclusion, culture change, and leadership development.
We seek in our writing to heal wounds in the psyches of individuals, the strains in interpersonal and intergroup relations across race differences, and the social fabric of the nation and its institutions, all of which are the legacy of racism.
We believe in walking the talk, doing the work, and being the change.
The search for race and culture equity is but part of the larger struggle for recognition, acceptance, and respect for humankind in all its multiplicity.

Highly readable and graphically documented.

Tri-Color Fold-out Graphic
This book contains a Tri-Color Fold-out Graphic Describing the

Journeys of Race, Color & Culture: From Racial Inequality to Equity & Inclusion

. Click here to order the room-sized Teaching Wall Banner.
Table of Contents
Chapter 1 — Introduction and Orientation to the Continuum
Chapter 2 — An Orientation for White People
Chapter 3 — White People in Cultural Dominance
Chapter 4 — People of Color in Cultural Subordination
Chapter 5 — People of Color in the Transition
Chapter 6 — White People in the Transition
Chapter 7 — Equity and Inclusion
Chapter 8 — Conclusion
Authors
Rick Huntley, MSW, is a highly skilled leadership and change consultant, coach and teacher with demonstrated ability to facilitate learning and skill development using group development theory and experiential learning to develop the client's core skills for learning across race, gender, and other dimensions of difference. He consults to labor, healthcare, medical research and in the government sector.
Mr. Huntley is a member of the NTL Institute of Applied Sciences. He was a member of the faculty that designed two signature programs to develop practitioner skills for facilitating institutional and group-level skills for learning and development. He was chair of the NTL Board of Directors from 2012 through 2014. He is a member of the faculty at the American University Masters of Organization Development Program and taught at Georgetown University's Continuing and Professional Education Program.
Rianna Moore, PhD, is an experienced OD practitioner, author, and diversity-inclusion specialist. Dr. Moore is a member of the NTL Institute of Applied Sciences. She leads the NTL Publishing Hub and contributes to Core Labs and Research & Writing Hubs.
Dr. Moore is a faculty member for NTL's signature Human Interaction (HI) Lab, as well as for the program that qualifies other members to staff the HI and other Core Labs. She has worked in client systems in corporate, government, and higher education sectors. She was the Director of OD & Diversity for Global Manufacturing & Engineering and management development specialist for a Fortune 50 high-tech firm. She has conducted consulting projects and professional development programs in Italy, Russia, Germany, Scotland, Canada, and Nationalist China, and throughout the US.
Prior to her OD consulting career she taught at Norwich University (VT}, and the State University of New York, SUNY Fredonia. She holds a Masters in OD and the PhD in Human & Organization Systems from the Fielding Graduate University.
Carol Pierce is a founder of new

dynamics

, an organization development firm, in 1972. She created new

dynamics

Publications in 1972. She specializes in equity/inclusion consulting and training, process consultation, and strategic planning in flatter, less hierarchical structure. She has worked with client systems in business, industry, human service, health, education, and religious institutions for over 40 years.
Ms. Pierce is an innovator in the field of diversity education, at a time when there were few professional diversity training programs and little published material for corporate consulting. With diverse colleagues, she is a designer of programs and writer in the areas of race and culture, gender, sexual orientation, and the use of egalitarian structure where power equity, partnership, and creativity are important. She is the innovator of Power Equity Group (PEG) theory, a major contribution to the field of Applied Behavioral Science. The theory validates and facilitates the understanding of egalitarian structure where naturally appearing energy is acknowledged and its impact on groups is recognized.
She is a member of the NTL Institute of Applied Sciences. She is a graduate of the University of Wisconsin School of Music and the Organization & Systems Development Program IV at the Gestalt Institute of Cleveland.
Reader Comments about
Journeys of Race, Color & Culture
"
....a richly resourced book....applicabl(e) for classroom settings because of ....historical accuracy and relevance in the current context.. ..! (I) have used it effectively and successfully across a wide range of initiatives in corporate settings, ranging from culture change efforts to one-on one-coaching .... (A)s a journey, (it) provid(es) the reader with a map that is a picture of hope reflecting an evolution of what is possible at the intersections of race, color, and culture, if we have the tenacity to remain on the journey in an authentic way.
"
Ralph E. de Chabert, SVP, Chief Diversity Officer, Brown-Forman Corporation.
"
The dynamics and theory that (this book and Continuum) expounds is the most profound analysis of what it means to be a Person of Color within the United States and beyond, empowering us with a way forward amidst the presently dispiriting chain of events.
"
Lennox Joseph, PhD, Advisor, Organizational Effectiveness & Development, The World Bank
"
As a European who has lived and worked in Africa and Asia for more than 30 years, I thought I had a reasonable grasp of diversity and inter-cultural human interactions The presentation of the Continuum increased my awareness beyond anything I had previously imagined and highlighted areas that had been hidden to my view. I continue to use it and refer to it in my work.
"
Mette Jacobsgaard, LLM & MPhil, Country Director, Kenya - International Development and Law Organisation
Top of Page ↑